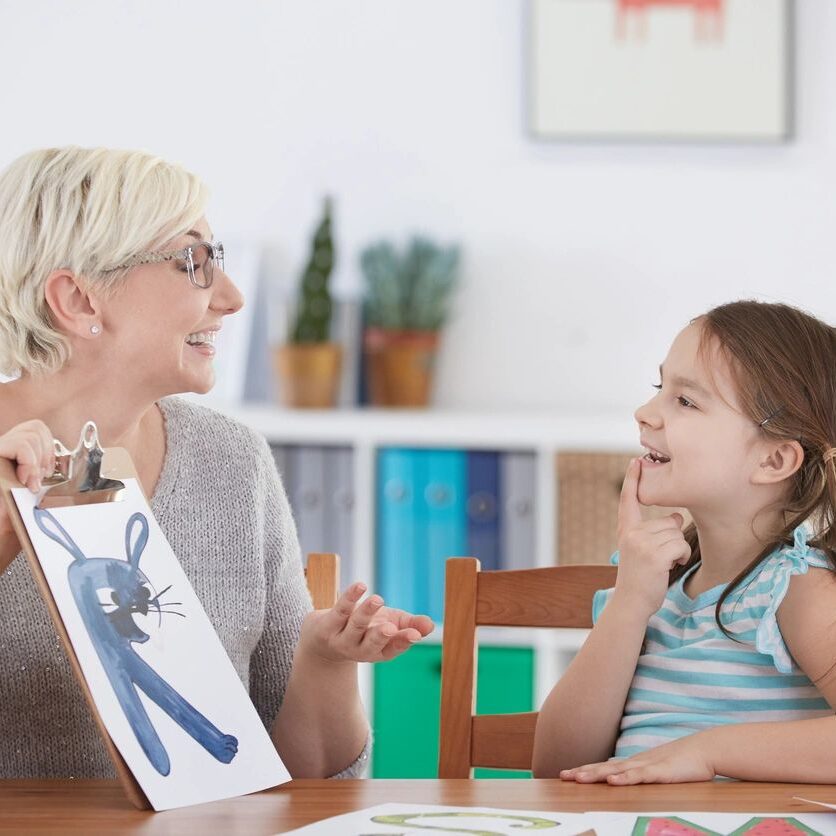 Speech therapy is used to treat a wide range of disorders pertaining to speech and other oral motor functions. Speech and language therapy services play an important role in the lives of children. An experienced and licensed speech-language pathologist provides ongoing assessment and evaluation utilizing a variety of testing methods along with speech therapy for children by helping them improve their speech and ability to understand languages, including various non-verbal signs. Speech therapists also incorporate the use of an augmentative and alternative communication, or AAC, that supports various methods of communication that can help people who are unable to use verbal speech to communicate. AAC methods vary and may be personalized to meet each child's communication needs.
At Stepping Stones Center, our goal is to ensure that your child demonstrates improved communication skills, both verbally and non-verbally. Regardless of the child's age, it is highly recommended to get them the treatment they need, as early as possible, to amplify their success and communicative gains through speech and language therapy. We provide assessment and interventions services for a variety of speech and language disorders that include but are not limited to the following:
Articulation and Phonological Disorders
Speech and Language Delay/Disorders
Oral Motor Apraxia
Childhood Apraxia of Speech (CAS)
Fluency Disorders (Stuttering and Cluttering)
Aural Oral Rehabilitation after the required amplification has been utilized
When is Speech Therapy required?
Speech therapy is often required for individuals who have articulation and pragmatic speech problems. Such therapy includes evaluation, intervention, and measurement of outcomes by using a wide range of tools and interventions, ranging from toys and play-like therapy to formal tests and speech curricula throughout treatment sessions.
Children with speech and language delays or disorders may struggle with articulating sounds and putting words together in a sentence. They may also find it problematic to deal with non-literal language skills such as idioms, sarcasm, hints, and indirect instructions. Difficulties in pronouncing words or stuttering while talking should be treated using special techniques.
A good speech and language therapist will help the child understand word and sentence meaning, intonation, and rhythm. Their focus is to help the child develop listening and attention skills, as well as social interaction skills through the development of language and expression.
Speech therapy is known to improve overall communication for individuals with Autism Spectrum Disorder. It also improves their daily life functions as well as their ability to forge social relationships.